New Nikkor PC 19mm f/4E ED
Nikon has announced a new PC Nikkor 19mm F4E ED tilt-shift lens (which the company calls 'Perspective Control.') This ultra-wide lens offers 97° of coverage and can shift ±12mm and tilt ±7.5°. Unlike the company's existing PC-E designs, the mechanism for tilt can be rotated independently from the mechanism for shift, allowing the tilt to be set either parallel or perpendicular to the shift.  The lens has three ED and two aspherical elements as well as Nano Crystal Coating.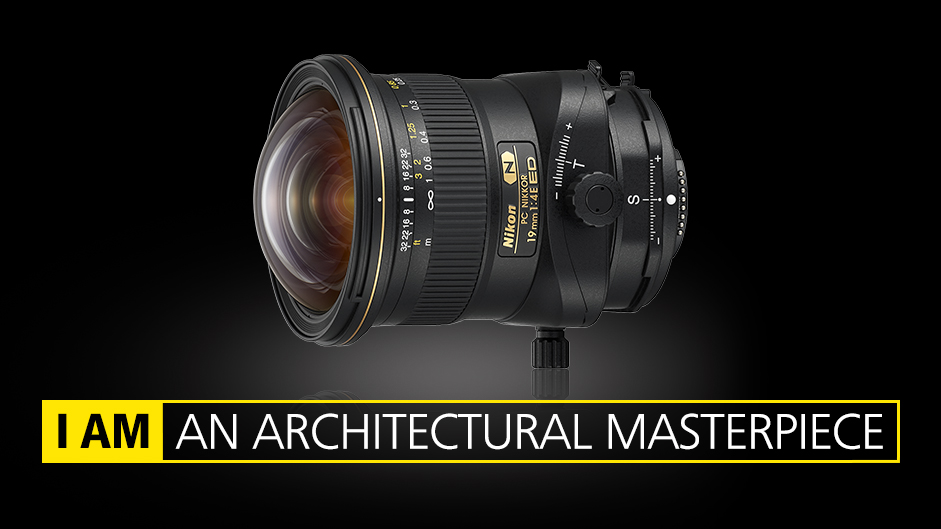 Seamlessly Control Perspective with the New Super-Wide PC NIKKOR Lens
Also new from Nikon is the latest perspective control lens (designated PC) in the NIKKOR lens lineup, the PC NIKKOR 19mm f/4E ED, a tilt-shift offering that will help photographers master perspective and depth-of-field. For storytellers who yearn to capture optically-challenging subjects like cityscapes and architecture, interiors or unique landscapes, this lens offers 97° of coverage – the widest focal length of any PC lens in the NIKKOR family. Tilt the lens to sharpen focus throughout a scene or create a miniature effect, or shift2 to adjust perspective in-camera, create panoramas or eliminate converging lines. For the first time with a NIKKOR PC lens, the direction of tilt operation can be made parallel or perpendicular to shift, offering users nearly unprecedented ability to control perspective, focus and depth-of-field, without having to lock and unlock to make adjustments.
Sporting a super-wide 19mm focal length, the lens provides a unique perspective ideal for shooting horizontal or vertical panoramas, or even filmmaking. With this ultra-wide angle in mind, the latest FX-format NIKKOR offering was crafted with three ED and two aspherical elements that help combat distortion and glare, while virtually eliminating chromatic aberration and coma, even at the widest aperture settings. The lens also features core NIKKOR technologies such as Nano Crystal Coat to combat ghosting and flare, an electromagnetic diaphragm for fast auto-exposure control, as well as a Fluorine coat that helps resist dirt, water spots and smudges. Ready for a variety of challenging ultra-wide applications, the PC NIKKOR 19mm f/4E ED is a powerful tool for discerning photographers looking for full creative and perspective control. It joins three other Gold Ring Series PC lenses in Nikon's line-up; the PC-E NIKKOR 24mm F3.5D ED, PC-E Micro NIKKOR 45mm f/2.8D ED and the PC-E Micro NIKKOR 85mm f/2.8D.
For more information visit https://mynikonlife.com.au/gear/nikkor-lenses/pc-19mm-f4e-ed/